He who dies with the most toys… North Americans and cargo-cult religion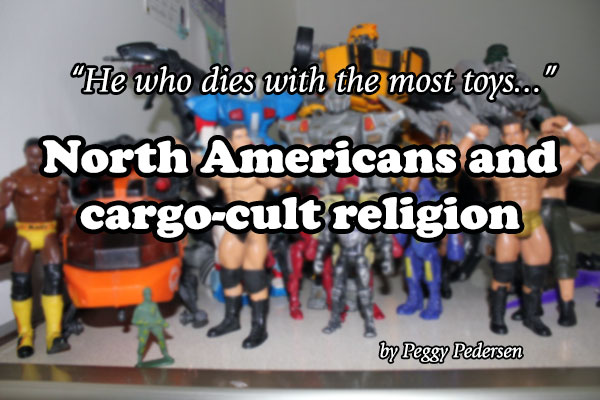 by Peggy Pedersen
Cargo cults have appeared in the past in various undeveloped countries, such as Papua New Guinea and Melanesia, in response to exposure to the wealth of outside cultures. In these religions, which are typically led by a charismatic leader, material goods are believed to have a spiritual source; if you know the right magic, you too achieve untold riches and prosperity.
The most well-known cargo cult is the John Frum cult in Vanuatu. The indigenous population received many manufactured goods by airdrop during World War II and from stationed military. When the supplies dried up after the war, cult leaders taught that these goods could be obtained from the gods by imitating the activities and dress of U.S. soldiers, including building fake runways, marching with wooden "rifles," and forming airplanes from straw.
These cults come about frequently in times of stress or crisis. The one who is able to accumulate the most wealth with the greatest number of others in their debt is believed to be the most powerful. Even crosses may be used as talismans.
Many of us have seen the bumper stickers, so proudly displayed on expensive sports cars, which read: "He who dies with the most toys wins." This is, in a sense, a sort of Western cargo cult. So too is the preaching of television evangelists who promise material wealth—cars, houses, overflowing bank accounts—to viewers, if only they will send the evangelist money, say special prayers (remember the "Prayer of Jabez"?), or simply "step out in faith" to purchase things, expecting money to follow. The cross and the name of Christ are used as talismans to bring about this "magic." We often refer to such teachings as the "Prosperity Gospel."
But what does Christ teach? Does He promise that, since we are adopted as God's children, as "King's Kids," we deserve the best clothes, cars, and housing? Does He promise that if we perform the right rituals or donate generously to specific teachers, that heaven will shower us with material goods? No. On the contrary, He says: "Do not love the world or the things in the world. If anyone loves the world, the love of the Father is not in him. For all that is in the world, the lust of the flesh, the lust of the eyes, and the pride of life is not of the Father but is of the world. And the world is passing away, and the lust of it; but he who does the will of God abides forever" (1 John 2:15-17). And St. James writes: "Do you not know that friendship with the world is enmity with God?" (James 4:4). The things of the world pass away. Instead, Jesus says, we are to focus on eternal things: "Lay up for yourselves treasures in heaven, where neither moth nor rust destroys and where thieves do not break in and steal" (Matthew 6:20).
The things of the world pass away. Instead, we are to focus on eternal things.
Those seeking material wealth are quickly led astray by those who promise easy gain. But those who seek God will be led by His Spirit not to earthly goods but to Himself. This does not mean that God does not care for us in our earthly needs, but He says that we should not spend our energy worrying and striving for these things: "And do not seek what you are to eat and what you are to drink, nor be worried," Jesus says. "For all the nations of the world seek after these things, and your Father knows that you need them. Instead, seek his kingdom, and these things will be added to you" (Luke 12:29-31). There is a great difference between seeking God in order to obtain wealth, and setting Him as our greatest wealth, counting as our treasures His forgiveness, His Word, and His Sacraments.
Jesus told the rich young man: "Go, sell what you possess and give to the poor, and you will have treasure in heaven; and come, follow me" (Matthew 19:21). In other words, whatever you cling to and count as your greatest treasure you must be willing to give up for the sake of Christ. Those who look to the next world, dreaming of servants, ornate clothing, mansions, and endless leisure have misunderstood the treasure of heaven; they  have turned Christianity into a cargo cult. The treasure of Heaven is Christ Himself! If we seek anything other than Him, we shall not find Him.
There were those who sought to follow Him because He gave them bread. Others, because He healed them. Others hoped He would deliver them from the Romans and restore Israel's greatness. He turned away from all of these and gave Himself instead to those who begged of Him the living water of the Spirit. Those who begged for His forgiveness, the shelter of His presence, and His words of eternal life.
The goal of our lives is not to accumulate "toys," for we must all give them up in the end. That's the message of another bumper sticker: "He who dies with the most toys still dies." The Psalm writer counsels us (Psalm 17:14-15) not to envy the wicked, however great their wealth may be, for their portion is in this life. But those made righteous by the Lord have their reward in beholding His face forever.
———————
Peggy Pedersen is a freelance writer in Victoria, B.C., where she is a member of Redeemer Lutheran Church. Her new book A Lamb within the Fold is available now.