LCC Joins Call for Improved Palliative Care in Canada
December 16, 2016
No Comment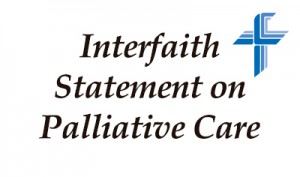 CANADA – Lutheran Church–Canada (LCC) has joined an Interfaith Statement on Palliative Care, calling on all levels of government to dedicate themselves to improving palliative and end-of-life care in Canada. Reports suggest only about 30% of Canadians who die each year have access to adequate palliative care.
"Our traditions instruct that there is meaning and purpose in supporting people at the end of life," the Statement notes. "Visiting those who are sick, and caring for those who are dying, are core tenets of our respective faiths and reflect our shared values as Canadians. Compassion is a foundational element of Canadian identity, and it is accordingly incumbent on our elected officials at all levels of government to support a robust, well-resourced, national palliative care strategy."
In specific, the statement calls on government to:
Develop a pan-Canadian palliative and end-of-life care strategy, to address the need for high quality care for all Canadians;
Increase the availability and accessibility of essential hospice and palliative care services in all settings;
Improve the quality and consistency of palliative and end of life care;
Provide more support for family caregivers, in the form of flexible financial and tax benefits; and
Ensure that the health care system respects the psycho-social and spiritual needs of patients and their families in the dying process.
Referencing the World Health Organization's definition of palliative care, the Statement notes that the underlying philosophy of palliative care is to provide support and comfort in dying but not to hasten death. "We agree with the majority of palliative care specialists in Canada who do not accept medically-hastened death as part of palliative care," the Statement explains.
"We affirm the inherent worth and dignity of every person, regardless of circumstances, ability or status," the Statement continues. "We understand the importance of caring for those who are vulnerable, including those at the end of life. We believe the appropriate response to persons who are near the end of life is to offer comfort and peace; to ensure they are supported with love and care; and to provide holistic care which includes pain control as well as psychological, spiritual, and emotional support. This cannot be achieved without improving and increasing resources for palliative and home care."
The Statement was signed by LCC President Robert Bugbee following consultation with the church's Council of Presidents and the Commission on Theology and Church Relations. Other signatories to the Statement represent a wide spectrum of religious groups, including the Evangelical Fellowship of Canada, the Canadian Conference of Catholic Bishops, the Canadian Council of Imams, the Centre for Israel and Jewish Affairs, the Armenian Prelacy of Canada, the Canadian Conference of Orthodox Bishops, the Ottawa Muslim Association, and the Church of Jesus Christ of Latter-day Saints.
Download the Interfaith Statement on Palliative Care in full here.
In addition to the Statement, President Bugbee has also signed a letter of support for Bill C-277, a private member's bill calling for improved palliative care in Canada brought forward by Marilyn Gladu, Member of Parliament for Sarnia—Lambton. "We are writing to thank you for bringing much-needed attention to this critical issue," the letter states. "This private member's bill requires the development of a palliative care framework, which would lead us a significant step forward by increasing caregiver support and data collection, and identifying palliative care education and training needs."
———————