Lutheran Braille Workers-Canada winds down operations
February 21, 2014
One Comment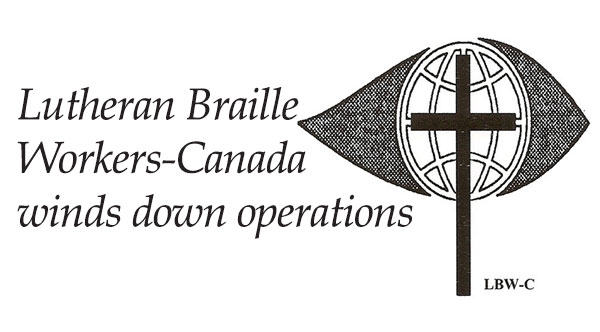 CANADA – After 40 years of providing free Christian reading material for the visually impaired, Lutheran Braille Workers-Canada (LBW-C) is ceasing operations. The ministry in Canada first began at St. Paul's Lutheran Church in Elmira, Ontario in 1974 in conjunction with the US-based Lutheran Braille Workers Inc. In 1992, Lutheran Braille Workers-Canada became a charitable organization and an official Listed Service Organization of Lutheran Church–Canada (LCC). Over the past four decades, Braille versions of the Bible have been produced in English, French, Estonian, Hindi, Swahili, and Amharic. Other publications produced include; A Child's Garden of Bible Stories, Christmas Hymns, Lutheran Hour Sermons, Primary Bible Stories, and a large print edition of LWML Tapestry.
Work Centres producing the texts were located at Lutheran Church—Missouri Synod parishes, and later LCC parishes, across Canada. In addition to the founding location in Elmira, the other centres were: Grace Lutheran Church, Regina (1978); LCC District Office/Bethel Lutheran Church, Kitchener, Ontario (1979); Grace Lutheran Church, St. Catharines, Ontario (1981); Grace Lutheran Church (Locksley), Pembroke, Ontario (1982); Redeemer Lutheran Church, Hamilton, Ontario (1983); St. Peter Lutheran Church, New Hamburg, Ontario (1996); and Grace Lutheran Church, Kincardine, Ontario (1997). Volunteers would print Braille texts of the Bible or other Christian publications by using embossed zinc plates. Braille paper was inserted between the plates and a heavy lead jacket and then run through a roller press that looked similar to the wringer on an old washing machine. A punch and spiral binder machine was then used to bind the books.
During the past 18 months, orders for material printed in Braille have dropped significantly. LBW-C President Judy Obelnycki says new technology is the reason. Those needing material for the visually impaired have simply found electronic alternatives. This includes e-readers, specially-designed Braille readers, and cell phone apps. LBW in the US has closed over 100 of its work centres, and those remaining open will fill any remaining orders for Braille or focus instead on large print publications. On February 8, the LBW-C Board met and decided to wind down the operations of the Canadian organization. President Obelnycki notes that the demand for Braille texts peaked about five years ago. All of LBW-C's assets will be transferred to LCC.
"We praise God for all the support received for His ministry to the blind and sight impaired," said President Obelnycki. "Thank you to all the dedicated volunteers, the prayer warriors, and the donors that worked diligently to keep this ministry alive and well until the end."
LBW-C will hold its 21st and final annual meeting on May 3 at St. Paul's Lutheran Church in Elmira, Ontario—the location of its founding work centre. In addition to discussing the final business of the organization, there will be an opportunity to show appreciation for volunteers, fellowship, and sharing of four decades of ministry to the visually-impaired. More details will come about this event and all past and present volunteers are welcome to attend.
President Robert Bugbee of Lutheran Church–Canada noted the news with a letter to LBW-C. "Your final gathering on May 3 at St. Paul's Church in Elmira will be a bittersweet moment for all of you, to be sure," he wrote. "On the one hand, you must feel sorrow that a long and fruitful phase of work for needy people in faraway places is coming to an end. In addition, the joys, that came from getting close to your co-workers and having so much time together with them were surely a blessing, even aside from the work itself. At the same time, it should fill you with sanctified pride that you were the Lord's instrument to get the Good News of Christ into the hands of people in distant lands. Many of them were largely dependent upon you to put God's Word into a form they could understand and use."
He continued: "I join my prayers to yours in asking God to bring good—beyond what you imagine—out of the work you did for others. I trust Him, too, to move you to give yourselves for the rest of your lives to many other needed acts of love and service. That active love will be the most fitting monument you could possibly erect to honour the memory of Lutheran Braille Workers-Canada."
Donations can still be made to Lutheran Braille Workers Inc. in the United States, but no tax receipts will be issued to Canadian donors.
———————