Ministry organization launches successful outreach conference series
February 22, 2011
No Comment
A sellout crowd of more than 300 people, including seven Canadians, left Lutheran Hour Ministries' Regional Outreach Conference (ROC) in Phoenix, Arizona, inspired to share the love of Jesus, the spiritual "rock," with friends, family members and people in their community.  
"It was a privilege to be at the first ROC on behalf of Lutheran Church–Canada," commented Dr. Ian Adnams, LCC's director of communications. "From the keynote speakers to the break-out sessions, the focus was on meeting the challenges of outreach in the 21st century, a topic we all need to take seriously."
Rev. Dr. Bob Newton, president of the California-Nevada-Hawaii district of The Lutheran Church—Missouri Synod, challenged attendees to no longer sit back and let people come to them for spiritual answers. He offered a glimpse of what it takes to be a missionary in a "post-church" culture. Breakout sessions tackled topics such as reaching the millennial generation for Christ, evangelism technology in the 21st century, the use of various witnessing methods, the challenge of other religions, short-term missions with long-term impact, and trusting God as you share Christ. 
"This is the type of mission-oriented conference we are planning for 2013 in conjunction with LCC's National Youth Gathering and we are pleased that Lutheran Hour Ministries will be our partner," explained Dr. Adnams. Lutheran Hour Ministries is also planning a Regional Outreach Conference for Vancouver within the next year.
ROC also provided something for younger members of the family. Teenagers took part in a five14 witnessing-training track that offered solid witnessing strategies and fresh communication styles in addition to entertainment, music and the fellowship of their peers. The children's program, entitled Shine Your Light So Bright! was like a day at vacation Bible school with the power and excitement kicked up a notch! Kids enjoyed music, Bible stories and crafts that taught them practical ways they can share the love of Jesus with their family, friends and neighbors.
The conference closed with a powerful message from Rev. Dr. Ken Klaus, speaker emeritus of The Lutheran Hour, reminding attendees of the great need to share the Gospel that has changed their lives with a world in need of the Saviour.
Following his sermon, Pastor Klaus presented Rev. Greg Seltz, the new speaker of The Lutheran Hour, with a stole given to him by the family of Dr. Oswald Hoffmann following the long-time speaker's death in 2005.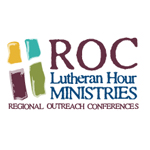 Future Regional Outreach Conferences are scheduled for Alexandria, Minnesota, March 18-19; Branson, Missouri, May 13-14; Chicago, Illinois, Sept. 9-10; Lancaster, Pennsylvania, Oct. 7-8; Colorado Springs, Colorado, Nov. 4-5; and Orlando, Florida, Jan. 13-14, 2012. For more information about these conferences, visit www.lhm.org/roc or call 1-800-876-9880.