Naaman: A teacher you never knew
by Robert Bugbee
Now, before you go any farther, get out your Bible and read 2 Kings 5:1-14. When you've finished, come right back. I'll wait for you in the next paragraph on this page. I promise!
*   *   *   *   *   *   *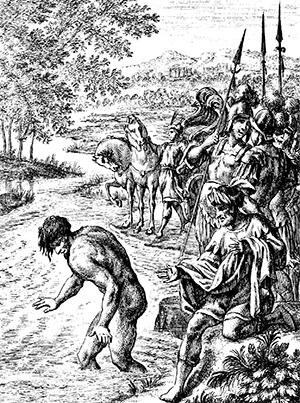 Naaman was quite the guy: a valiant soldier, prized by his superiors, respected by everybody. It was all threatened when he contracted leprosy. That skin disease, often referred to in the Bible, was highly contagious. It ultimately meant you had to stay away from people. Leave town. Live alone. Warn others to keep their distance if you met them on the road. It was a career-wrecker, a life-wrecker. Even an army commander couldn't order it to go away.
Naaman, a foreigner, learned that God's people had a prophet with extraordinary power. Since Naaman's king couldn't afford to lose him, he wrote to Israel's king, requesting the needed healing. Israel's king was horrified, figuring it was an excuse to start a fight with him. Then Elisha, God's prophet, notified Israel's king that he could indeed help. Naaman should come to see him. Naaman did so, apparently quite promptly.
How would God help, according to Elisha? "Go, wash yourself seven times in the Jordan," he told Naaman, "…and you will be cleansed" (2 Kings 5:10). Naaman wasn't buying it. He figured Elisha should strut out in a dramatic way. Wave his hand over the spot! Shriek an incantation! Some kind of "abracadabra"! But no! Instead, the preacher tells him to dip himself in some lowly creek! Nonsense! "After all," reasoned Naaman, "back home in Syria we've got first-class rivers! Don't ask me to believe God will show His power through something as plain as puny stream water like this!"
The Bible never reveals the names of Naaman's servants. Their identity doesn't matter so much. They spoke wise advice, however. "If God's preacher had ordered some dramatic thing, you'd have done it," they told their commander. "Why do you refuse because he commands something simple?" Naaman relented. He went to the Jordan, dipped himself in its water as he was told. Healing came, just as Elisha promised. The big issue was not whether it made sense to Naaman. It didn't matter so much whether there was arm-waving and drama. God's Word and command was attached to this pipsqueak little stream with its ordinary-looking water. To be sure, the water didn't do it. God's powerful Word did it all.
Naaman didn't know his story would be recorded in Scripture to teach you precious lessons. Because he appears in a little-read corner of the Old Testament, you may never have counted him your friend and teacher before. But the way the Lord brought him help, and Naaman's own wrestling to come to grips with it, teaches you a great deal even now in your life as Jesus' follower.
Time and time again, the Bible directs you to simple stuff and to trust God does His saving work through it.
Time and again, the Bible directs you to simple stuff and to trust God does His saving work through it. "My word … will not return to Me empty, but will … achieve the purpose for which I sent it," He promises (Isaiah 55:11). "Get up, be baptized and wash your sins away," Ananias told Saul (Acts 22:16). "Take and eat; this is My body … drink from it, all of you. This is My blood of the covenant, which is poured out for many for the forgiveness of sins" (Matthew 26:26-28).
Do you struggle with guilt sometimes and wonder how you can be certain your Father really forgives? He says so at His holy Table, where He tied His love to this consecrated bread and wine and wants you to know that His forgiveness is as real as these treasures you took into your mouth! Do you wish your wobbly faith could firm up and hang on when you're crying over a lost loved one, when you're struggling with disease, or feel heartache over sorrow in your family life? Jesus sends you this news flash, "Whoever comes to Me I will never drive away," (John 6:37). If you forget that promise at times, or go fuzzy about how Jesus really feels toward you, you don't need to just sit and speculate and torture yourself. Get right back to the words He has spoken. His help is always there, ready to go.
Naaman discovered that, if he wanted God's help, he'd better look for it where the Lord had promised it, right there in the Jordan water. It didn't matter that this didn't excite his eyes. God had fastened His promise to that spot. And God kept His pledge. He came through. He blessed Naaman right there.
I don't quarrel with providing gifted musicians, using good sound equipment, appreciating a pastor's humour and winning personality. But the faith and life of local churches will need to focus on the spot where God Himself promised we will always get the help we need: In the Word, in Baptism, and at Christ's Table. Yes, you can make them into an empty formality, which is really a way of denying what God says they can do. On the other hand, the faithful seeking of what the Lord gives in those places will never leave you empty. Your teacher Naaman makes that clear!
——————–
Rev. Dr. Robert Bugbee is President of Lutheran Church–Canada.
Image courtesy of the Digital Image Archive, Pitts Theology Library, Candler School of Theology, Emory University.