New editor appointed for The Canadian Lutheran
November 4, 2011
3 Comments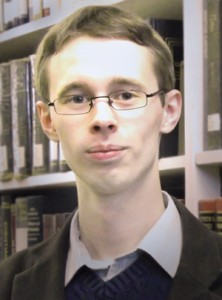 Responsibility for communications in Lutheran Church–Canada passes to a new generation in November with the arrival of Mathew Block who will serve as communications manager and editor of The Canadian Lutheran and Canadianlutheran.ca.
A 2010 graduate of the University of Regina with bachelors degrees (honours) in English and linguistics, Mathew is a member of Good Shepherd Lutheran Church in Regina. LCC's Board of Directors appointed him editor at its October meetings.
Mathew brings to his new position a variety of gifts and talents. In the church, he has led Bible studies; spent a summer with a CREW Ministries team; and currently serves on the Church Council of his congregation and heads the Board of Evangelism. 
During university and after graduation he worked as a communications consultant with the Government of Saskatchewan: twice with the Ministry of Tourism, Parks, Culture and Sport, and once with the Ministry of Corrections, Public Safety and Policing. His work included writing news releases, speeches, and material for websites, as well as event-planning and advising on the use of social media.
Over the past few years, Mathew's by-line has appeared in The Canadian Lutheran magazine and its online counterpart www.canadianlutheran.ca; National Post's Holy Post blog; and his work will appear soon in the Vancouver-based Christian magazine Converge.
"I am humbled by the opportunity to serve LCC as its Manager of Communications and as editor of The Canadian Lutheran," he said, "but I am also very excited to support the church in such a meaningful way as it proclaims the Good News of Jesus Christ." 
In addition to his active involvement at Good Shepherd, Mathew served four years on the executive of Inter-Varsity Christian Fellowship at U of R and represented the interests of Luther College and its students to the university's Faculty of Arts. His involvement with Luther College included a term as assistant editor of The Luther Story magazine, the college's bi-annual publication, and assisting the Communications and Alumni Relations Board with its strategic planning.
 Mathew Block begins his duties with Lutheran Church–Canada November 15.