New hymn available for Advent 2010
November 1, 2010
No Comment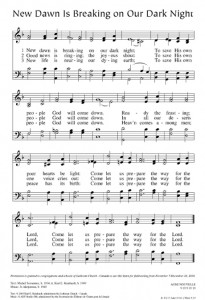 Members of Lutheran Church–Canada congregations which worship in English can soon experience some of what the new French language hymnal offers. An English translation of a French Advent hymn published in Liturgies et cantiques lutheriens is available just in time for the season marking the start of a new church year and the preparation for Christmas.
The French title of the hymn is Aube nouvelle, translated New Dawn is Breaking on Our Dark Night. The lyrics, written by Michel Scouarnec were translated by LCC pastor Rev. Kurt Reinhardt of Trinity Evangelical Lutheran Church in Kurtzville, Ontario. LCC's Committee on Worship and Music (CoWM) asked Pastor Reinhardt, a published poet and lyricist, to do the translation. "It's a good example of a unique French hymn; it's a modern French hymn too," says former CoWM member Pastor David Saar about the choice of this particular hymn for translation. He added that it was written in the 20th century and is quite popular for use during Advent. Pastor Reinhardt says translating the three verse piece was not difficult, but rhyming from the French version was sometimes difficult to replicate in English.
"The hymn is something congregations are free to use for a limited time," says Pastor Saar, stating that due to copyright restrictions the hymn will only be available for field testing in LCC congregations and schools from November 7 to December 24, 2010. Pastor Reinhardt is optimistic that the commission will make more translations available for other seasons of the church year, noting that he is currently working on one that will hopefully be ready by Christmas.
The French hymnal has already proven popular with francophone Lutherans in Canada, Africa and the Caribbean. The English translations of selected hymns are intended to make the hymnal, its contents, and the presence of francophone Lutheranism in Canada better known to all members of the church. "We want to make people aware that we do have brothers and sisters in Quebec and that we're doing outreach there," says Pastor Reinhardt.
The English version of New Dawn is Breaking on Our Dark Night is available for download as a bulletin insert at www.lutheranchurch.ca/worship