Out of the darkness
December 13, 2012
One Comment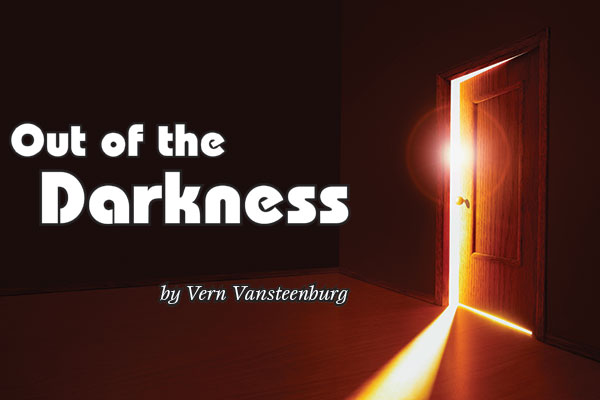 by Vern Vansteenburg
In the beginning was the Word, and the Word was with God, and the Word was God. He was in the beginning with God. All things were made through him, and without him was not any thing made that was made. In him was life, and the life was the light of men. The light shines in the darkness, and the darkness has not overcome it (John 1:1-4).
I have been a pastor for 36 years. In that time God has given me the opportunity to speak to many who have found themselves in dark places filled with evil and despair. I have found that the light of God's grace in Christ is able to pierce into this darkness, offering comfort, hope, life, and love—all through the blood of Jesus Christ. "For God, who said, 'Let light shine out of darkness,' has shone in our hearts to give the light of the knowledge of the glory of God in the face of Jesus Christ.'" (2 Corinthians 4:6).
Let me tell you one such story of light shining in the darkness.
Kurt's story
My wife Leslie and I knew Kurt and Susan as Troy's parents. Troy was a friend of Amy, our youngest, both of them being in third grade. We had always meant to get better acquainted with Troy's parents but "life happens," as they say, so we really didn't know them very well. One day in late August 2010, I got a call from Kurt inviting us for coffee. We were pleasantly surprised and eager to set up a time to get together.
The evening went well. We had a lot in common since our children Amy and Troy were in the same group of friends. Suddenly though, when we were getting ready to leave, Kurt sat forward in his chair. He said, "The reason we asked you over is because I have terminal cancer. I was wondering if it would cause problems for you and your congregation if I asked to have my funeral in your church, since I am not a member. My grand parents were devout Lutherans and made sure I was baptized and confirmed. But when my dad and mom moved to a small town where the only church was United, we didn't go much. I haven't gone to church much over the years but was hoping I could have my funeral in the Lutheran church."
Once I got over the shock of these words, I assured him it wouldn't be a problem. But before I could go into deeper detail, he said, "I have another question for you. As you know, I have been a peace officer for many, many years. In that time, I have taken prisoners from the Remand to court and back. Many of these prisoners spit in my face or stomped on my foot. Sometimes they received a judgement far more lenient than I felt fair." "And," rubbing his knuckles, he continued, "I would find myself dishing out a little of my own justice. Do you think that God will be as 'just' with me as I was with these prisoners?"
I told Kurt that God was, indeed, a just God, quoting passages from James, Romans, and even the words of Jesus. But I continued that God wasn't only a just God, but also a merciful God who had no desire for any to be punished or die. Again, I pointed him to Romans, Ephesians, and the Gospels to reassure him that, even though he deserved death and punishment, that punishment was already carried out on the cross of Christ—through the incarnation, death, and resurrection of Jesus. I assured him he need not fear death; because of the forgiveness earned for him on the cross, there would be life and salvation waiting for him.
Because of the forgiveness earned for him on the cross, there would be life and salvation waiting for him.
Over the next few months we had opportunity to continue these conversations. I found Kurt was more at peace each time we talked.
Then, in February 2012 the following year, I found that I, too, had cancer.
Journeying together
After a round of radiation, the CAT scan showed my cancer had spread and was now in my lungs. That meant it was incurable. My conversations with Kurt now took on a whole new dimension. We spoke about the preparations that we now each needed to make. We spoke of our concerns for our families—how they would deal with life without us. Still, the grace of God came through, reminding both Kurt and me that God had taken care of our families these many years, using us to ensure their security; He would continue to take care of our families as their loving Father, even when we were not there.
In the spring of 2012, having just finished a round of chemotherapy, I received a call from Susan late one week saying Kurt was in the hospital and that it didn't look good. She asked if I could come to see him. I said I was feeling rather weak, but that I would try to come in by the beginning of the week. Early Monday morning, Susan called again and, with urgency in her voice, asked if there was any way I could see Kurt that day. I told her I would be in first thing that afternoon.
When I got to Kurt's room, his family left so he and I could have a few minutes alone. Kurt had just received a shot of morphine and was beginning to relax as I spoke to him. We cried out to our heavenly Father, "Lord, have mercy, Christ, have mercy, Lord, have mercy." We confessed our faith in the words of the Apostles' Creed, and prayed together the prayer our Lord had taught us to pray. I then asked God, in His grace, to receive His son into His gracious arms, for the sake of Jesus Christ, our Saviour. And with that, Kurt used all his energy to sit up from his pillow and give me a hug. He lay back down, and I said "Kurt, the Lord be with you." And I turned to leave. As I reached the door, I glanced back and said "Kurt, I'll see you soon." With a gentle smile on his face, he fell asleep.
I received the call from Susan the following morning: Kurt had died in the night. She said how much he had appreciated our conversations over the past year—how much he had appreciated my last visit. Even then, I could see the light of Christ shining into the darkness, bringing peace to a troubled heart.
I could see the light of Christ shining into the darkness, bringing peace to a troubled heart.
The light of Christ
I continue my struggle with cancer, but again God in His grace blesses me with life and opportunities to share His love and compassion. I know He is in control of all things. And I know he does so in love and compassion. He has taken care of my family in the past; He will continue to do so, even though I will not be there to see it. The light of His love in Christ will shine in their darkness and eventually bring peace to them as well.
——————–
Rev. Vern Vansteenburg is pastor of Christ Lutheran Church in Fort Saskatchewan, Alberta.