Precious in the Sight of the Lord is the Death of His Saints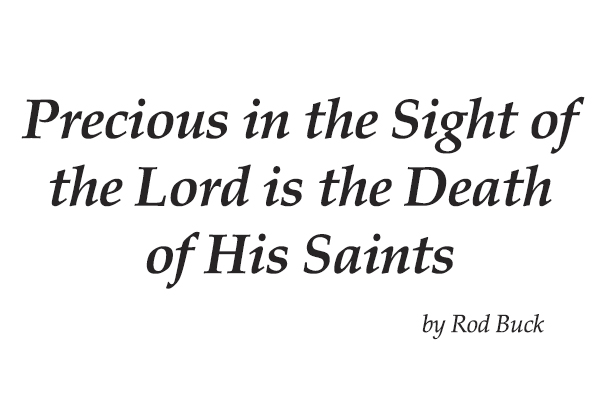 by Rod Buck
The pie was obviously from Safeway: it still had the sticker on it, yet Carl insisted straight faced (eyes twinkling) that he baked it especially for my visit. It became a running joke between us. Truth was, there was a lot of laughter each time one of the pastors from St. Matthew would visit Carl and Ruth, especially when Ruth would announce she was going to tell us a joke she'd heard, and Carl in a patient long suffering way would plead "No Ruth, don't tell the pastor that joke." It only made us laugh the harder. There was always laughter with each visit to this couple: you could still picture Carl as a young student from Concordia dating the pretty girl down the road from his family farm. Now sixty-eight years of marriage later they still held hands in church.
Laughter became a bit tougher in late August when Carl and Ruth got the news that Carl was filled with cancer and not expected to live much longer. A steady stream of friends and family came to the house to find Carl and Ruth at the kitchen table still holding hands… with Carl apologizing that he wasn't able to prepare pie this time. There was a great deal of emotion as their family and church family prepared to walk with them through these difficult days.
Every pastor understands how serving Christ's people does not always allow for a "professional distance." And so when we first hear of a loved member entering the hospital for their final days, we begin a difficult journey with them. Visiting them in the hospital, reminding them of their baptism, bringing them the Holy Supper of our Lord, reading God's Word to them, and praying with them is a joy and a privilege. But it comes at a cost, as we watch this loved child of God gradually decline in health.
Serving Christ's people does not always allow for a "professional distance." And so when we first hear of a loved member entering the hospital for their final days, we begin a difficult journey with them.
So it was for the pastors at our church as we visited with this man of God. With each visit we found him a bit weaker, but still with the same bright shining faith in His Lord and Saviour—a faith that encouraged us even as we sought to bring encouragement to him. In the last days, as Carl's time to be with His Lord neared, he found talking difficult. And so he gave his two pastors a letter which not only outlined his wishes for his funeral, but was also a bold witness of the faith into which he had been baptised and to which he had clung his entire life. It was a witness that brought encouragement to all who cared for him and one which prompted the writing of this article. Quite simply: some things need to be shared.
Carl wrote to his pastors:
"First of all, I would like to thank you for being my shepherd and encouraging and strengthening the faith for me and my family which is so important to me. I don't know when my time to depart this earth will come, but I do anticipate that I will be with my Lord when my journey has ended… I would like my funeral to be a service of thanks and praise.  I can't tell you how thankful I am for all of the blessings and good things the Lord has done for me… I know that you will re-assure all of my family and friends that Jesus their Saviour is the certain hope of God's promise of eternal life… I do not want a eulogy! No need to tell people how good (or bad) I was because they all know me, but do tell them how tremendously good God has been to me, a sinner,  whom He has daily forgiven and on whom He has richly and abundantly poured out His blessings daily… What a Joy it will be for us to be in heaven together."
Who writes like this? Who articulates a lifelong faith and a sure and certain hope of eternal life with such a letter? And why?
To understand, you need to know something about Carl. Throughout his life, Carl had been a faithful hearer of God's Word. In the narthex at St. Matthew are the pictures of some seventeen Pastors who have served the church since 1900. Included on that board is Rev. Emil Eberhardt, the first Lutheran Church—Missouri Synod missionary to Western Canada. Rev. Eberhardt baptised and later confirmed Carl, and since then Carl has been ministered to by every one of the other sixteen pastors to serve at St. Matthew. He has been shaped by God's Word as they preached to him and by the sacrament with which they fed him.
As we ministered to Carl in these last days, it became evident to us that the faith first given to Carl in holy baptism had matured and taken deep root throughout his 90 years. His faith had grown strong, just as he himself grew up in the church, worshipping in the same pew as his parents, and later with his wife and children—and then with his grandchildren and great grandchildren. It was this firm and powerful faith in His Lord and Saviour which comforted him in his final days.
While many today wonder what connection the church and divine service has to daily life, Carl had no such doubts. Ninety years of hearing God's Word and receiving the forgiveness of sins in God's house had prepared him for his last days on earth like nothing else could. This is why he was able to make such a bold and faithful confession of faith. Dr. Kenneth Corby once remarked: "We go to the sacrament as if we were going to our death (to die in Christ), so that we go to our death as if we were going to the sacrament." This was especially true of Carl. In the end Carl was surrounded by the only things that matter: his family and the love they had for him, and his Lord and Saviour Jesus Christ. When we would visit him in hospital he would greet us with a gentle smile nod at the comfort God's Word brought to him and softly ask, "How about a short prayer, Pastor?"
Psalm 116:15 reminds us: "Precious in the sight of the LORD is the death of his saints." It is true—precious indeed are their deaths, and yet so difficult for those of us who remain this side of eternity.  We saints here on earth gathered to remember our brother Carl and God's gift of eternal life to Him. During his funeral we wept that our brother was no longer with us. But even in the face of death we sang of Christ's victory over the grave. We sang quite a lot, in fact. Unable to choose between five wonderful hymns, Carl simply picked them all.
During his funeral we wept that our brother was no longer with us. But even in the face of death we sang of Christ's victory over the grave.
What a privilege it is to be a pastor for Christ's loved people, to work with them in His kingdom, to remind them of His promises, to walk with them in this life, and finally to see them safely home. I look forward to seeing my friend Carl again at the feast of the Lamb which will have no end. And at that feast, if Carl has anything to say about it, we're gonna have pie.
———————
Rev. Rod Buck is Senior Pastor at St. Matthew Lutheran Church and School in Stony Plain, Alberta.