Remembering the past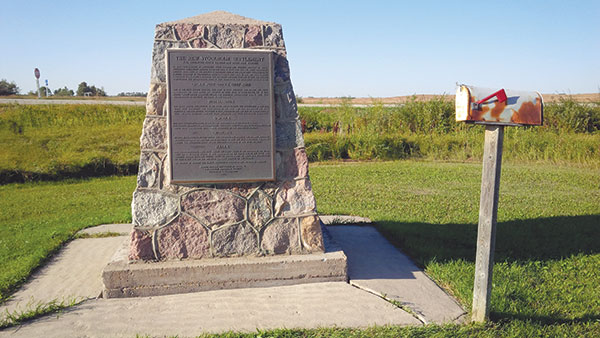 by Thomas Prachar
Last summer, while I was driving north on Highway #9 just south of Stockholm, Saskatchewan, I passed by a marker at the side of the road. It intrigued me to the point that I turned the car around and headed back for a closer look, and to take this photo.
Like many places in Saskatchewan commemorating the arrival of the first settlers, this particular marker commemorates immigrants from Sweden and Norway who arrived on July 1, 1886, to homestead in the area. They established the first permanent settlement in the District of Assiniboia, N.W.T., known as New Stockholm. (In 1905, this part of the North West Territories would become known as the province of Saskatchewan.) The marker also recalls the early burial sites, schools, churches, and halls established by the settlers in this area.
I must confess the thing setting this marker apart from many others I have seen on my travels was the mailbox next to it. I assume the mailbox is there for people who were former residents or descendants of residents to leave messages of remembrance or appreciation for the way the community keeps up the site. In fact, as I drove by I mistakenly thought that this was a cairn marking the site of an old cemetery. Who would put a mailbox at a cemetery?
Remembering your past can be good in many ways. You can learn from mistakes made by previous generations, or be inspired by their hard work to make a good life for their family. You can also thank God for the faith and devotion of family members who, when arriving in this country, made it a priority to gather for weekly worship. And you can thank God that He used them as His instruments to pass the Christian faith on to you.
After we die, people may forget us or what we did in life, but our gracious God remembers us. We didn't have to do anything special to receive such notice. We didn't have to be anyone special for Him to remember us. Even in our sinful condition, He loved us enough to send a Saviour in the person of His Son, Jesus. Best of all, in Jesus He remembers our sin no more (Jeremiah 31:34).
While many congregations in the Central District have closed over the years, there are still reminders—either through cairns, plaques, or items in the archives—that a congregation existed in a particular location. Only God knows the exact number of people touched with the precious Gospel in those places! We thank God for remembering them and us with His undeserved goodness.
———————
Rev. Thomas Prachar is President of the Central District of Lutheran Church–Canada.