The Devil made me do it
October 30, 2013
No Comment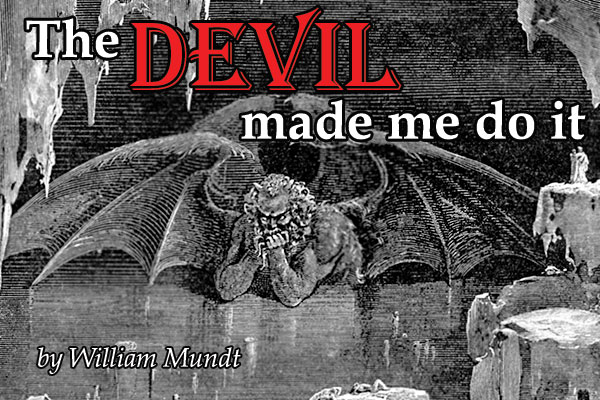 by William Mundt
"To each is given the manifestation of the Spirit for the common good. To one is given through the Spirit the utterance of wisdom,… to another the ability to distinguish between spirits" (1 Corinthians 12:7-10).
"The Devil made me do it!" may be an oft-used comedic quip, but as Robert Bennett points out in his new book, I Am Not Afraid: Demon Possession and Spiritual Warfare (published by Concordia Publishing House), there is nothing funny about dealing with the devil. First he describes exorcisms and other spiritual warfare events in the Lutheran Church of Madagascar. Then he looks at the history and development of exorcism in Scripture, Martin Luther's ministry, the Lutheran Confessions, pastoral theology and dogmatic texts, and various agendas. Throughout, the accounts are clear, concise, and well-documented.
One quote that caught my attention was "Exorcisms are for the present." It is a simple yet powerful reminder that although for Christ's sake we are heaven-bound, nevertheless, as long as we remain on earth "we do not wrestle against flesh and blood, but against principalities, against powers, against the rulers of the darkness of this age, against spiritual hosts of wickedness in the heavenly places" (Ephesians 6:12). This is a simple, powerful truth often overlooked in a sophisticated society. Denial does not alter reality. As Helmut Thielicke pointed out, "Evil cannot be seen by the evil just as stupidity cannot be perceived by the stupid."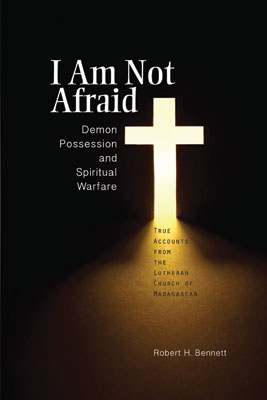 Dr. Bennett readily admits that North American and European Lutherans may find the accounts of demonic activity in his book unnerving and uncomfortable, where less attention and blame is attributed to demonic activity. But his intention is to inform not titillate. He consistently points to the results of possession and deliverance, as opposed to delving into too many details about the nature of the sins produced by Satanic influence and possession. Perhaps I missed it (or perhaps it is artificial and therefore unimportant), but I do not recall the neat little categories systematicians like to use to organize evil into categories of demonic influence, demonic oppression, and demonic possession. From the author's, and especially from the interviewees' point of view, evil is evil. Since the source is the same, the approach is the same. Whatever one thinks about exorcism, Dr. Bennett leaves no doubt that it is entirely Christ's work. He then provides illustrations from Scripture and history to show the dangers of thinking Jesus' name is a magic formula, or that specific rites and procedures must be observed. It should also come as no surprise that Hollywood renditions of exorcisms contain a trace of truth but quickly lapse into special effects designed to "entertain" the viewer. But as Dr. Bennett demonstrates, there is nothing entertaining about either possession or exorcism. Exorcism is about deliverance from fear and futility, not entertainment.
Extremes are always problematic. To declare in the rite of baptism that one renounces the devil and all his works and all his ways, yet to deny any need for exorcism is to diminish a true spiritual threat. Martin Luther emphasized in his Baptismal Booklet "that the infant is possessed by the devil and a child of sin and wrath, and so diligently asks for help and grace through baptism, that the infant may become a child of God. Therefore you have to realize that it is no joke at all to take action against the devil and not only to drive him away from the little child but also… to stand by the poor child with all your heart and with a strong faith… so that the child might resist him (the devil) valiantly in life and in death."
It is no joke at all to take action against the devil.
At least once in his own ministry, Luther was consulted concerning a young woman from Meissen who was often vexed and tormented by the devil. When she began to recite the Creed, the evil spirit began to convulse her. Luther made two points in his admonition to the servants of the church who participated in the exorcism that might apply to Madagascar today. He noted first of all that people do not need to drive out devils as it was done at the time of the apostles and shortly thereafter to prove the power of the Gospel. Then it was necessary to do such miracles and signs to confirm it as a new doctrine. By extrapolation this suggests it may be necessary for a similar approach where evil and evil spirits are a daily, obvious reality, while in Western culture the devil's approach may be more subtle, such as convincing people he does not even exist. Secondly, one does not drive out devils with conjurations and commanding, but with prayers and contempt. For the devil is a proud spirit who cannot stand prayer and despising, but desires a ceremony. As with baptism, Luther asserts here too, that "the external ceremonies are least important."
If one extreme is to deny the importance of exorcism at all, then the other is to become so preoccupied with what Bennett describes as power encounters or power evangelism that ordinary causes for illness and convulsions may be overlooked, and the Word of God as the primary means of conversion is undervalued. That certainly does not appear to be the case here. Dr. Bennett points out how exorcism always take place in a larger context of teaching.
Although not necessarily a "must read" for everyone, this book certainly makes an important contribution to our very limited knowledge of spiritual warfare related to demonic possession and exorcism. Concordia Publishing House also has made available a downloadable Study Guide should a church or group wish to use this book for a Bible study to develop insights into dealing with "the old evil foe." With Luther's words we too can sing and say: "Though devils all the world should fill, all eager to devour us, we tremble not, we fear no ill; they shall not overpower us. This world's prince may still scowl fierce as he will, he can harm us none. He's judged; the deed is done; one little word can fell him" (LSB 656).
As Dr. Bennett repeatedly asserts, it is Christ and His Word alone that even the demons in Madagascar must obey. We would do well to keep this church in our prayers, so they may retain the gift of discerning spirits.
———————
Rev. Dr. William Mundt is a professor at Concordia Lutheran Theological Seminary (St. Catharines, Ontario).