The French hymnal hits keep coming!
November 28, 2010
One Comment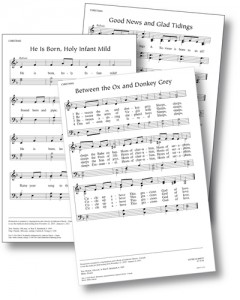 Pastors, choir directors, organists, music teachers and congregations can now enjoy three new Christmas hymns courtesy of Lutheran Church–Canada's Liturgies et cantiques luthériens. The hymns, traditional favourites in the French-speaking world, are available in English for use across Canada.
He is born Holy Infant Mild is the translation of Il est né le divin enfant a popular carol you may recognize. The other two hymns are Good News and Glad Tidings and Between the Ox and Donkey Grey. Pastor Kurt Reinhardt, a member of Lutheran Church–Canada's Committee on Worship and Music translated the hymns.
"The hymns were chosen [for translation] because they're familiar and popular French Christmas hymns sung in Québec," explained Pastor David Saar who worked on the production of the French hymnal.
In addition to the PDF bulletin-sized music, Pastor Saar has recorded a verse of each hymn, including an Advent hymn, you can listen to before downloading. Listen to them HERE
"We all have our favourite Advent and Christmas hymns which have come to us mostly from our German and English traditions," noted Allison Wonnick, chair of LCC's Music and Worship Committee. "But it is a unique opportunity for members of our congregations to enjoy singing new Advent and Christmas music this year."
Along with the Advent hymn and three Christmas hymns, The Great 'O' Antiphons in English and French can be  downloaded HERE and used during the last week of Advent, December 17-23. The booklet provides versions in both languages of "O Come, O Come, Emmanuel (LSB 357)."
Liturgies et cantiques luthériens, a publication of Lutheran Church–Canada is proving a welcome and well-used resource for French speaking Lutherans around the world.