Truth and Reconciliation in Canada
March 7, 2016
One Comment
EDITOR'S NOTE: In 2008, the Government of Canada along with parties to the Indian Residential Schools Settlement Agreement created the Truth and Reconciliation Commission of Canada to respond to abuse and other negative impacts of the Indian residential school era. It completed its work in December 2015, issuing a report with a series of recommendations "in order to redress the legacy of residential schools and advance the process of Canadian reconciliation." The federal government has signalled its intent to adopt the recommendations in their totality.
by Ron Ludke
"All this is from God, who reconciled us to himself through Christ and gave us the ministry of reconciliation" (2 Corinthians 5:18).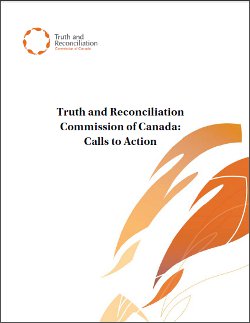 We have a problem in Canada. The Truth and Reconciliation hearings over the last few years brought to the forefront the terrible history and legacy of Indigenous people in Canada. The new government of Canada has committed to implementing the recommendations of the Truth and Reconciliation Commission. Churches that participated in the residential school program have acknowledged and apologized.
Nevertheless, the problem remains. First Nation's people in the north have seen significant harm done to them and as a result many are disenfranchised and disillusioned. There is need for reconciliation.
Consider some of the issues facing First Nation's people today:
Suicide is the leading cause of death among First Nation's people between the ages of 10-24.
Diabetes among First Nation's is three times higher than the national average.
58 per cent of on-reserve aboriginal people between the ages of 20-24 had not graduated from high school.
Fetal alcohol syndrome is 25 times higher than the world average.
My grandfather emigrated from Germany in the early 1900s. He entered Canada with $10 and the hope of finding opportunity. He was able to homestead a quarter section of land and became a landowner. My grandmother told me of memories of Cree people who came and asked for clothing and food but most had been moved to Indian reserves. Those native people once lived and hunted Buffalo on the land my grandparents now called their own. Teepee circles and arrowheads were they only reminder of the people who once raised their families where settlors now farm.
I don't believe my grandfather, other settlers, or their descendants meant harm. I don't believe most knew or understood what had happened nor could they contemplate what the future would hold for First Nation's people who were displaced. I don't believe it is helpful to point fingers or lay blame. We live in a sinful world and brokenness is the result.
But we can do something about the situation today. As Christians, we are called and equipped to act. Scripture tells us: "All this is from God, who reconciled us to himself and through Christ and gave us the ministry of reconciliation" (2 Corinthians 5:18).
Lutheran Association of Missionaries and Pilots (LAMP), in partnership with the Lutheran church, has been about the ministry of reconciliation for over 45 years. With help and participation of our church and its members, LAMP has become the most significant source of spiritual witness and nurture in northern Canada.
Pastors and lay people from churches across Canada ask me how can we help what can we do. The First Nation's friends I have met and work with tell me clearly what they are asking us to do:
Come visit with us and support us on our journey to healing.
Send pastors and teachers to come teach us the Scriptures.
Come teach our children about Jesus.
Pray for us.
Send missionaries who will share the Gospel in word and action.
As executive director of LAMP I am committed to doing exactly what First Nation's people are asking us to do. We have the experience and we have the relationships built over many years. We have hundreds of volunteer missionaries who have are answering God's call to go to all nations. You can participate with your prayers, participation and your Canadian mission funding support.
LAMP's staff and volunteer missionaries are now preparing to go. We plan to hold Vacation Bible Schools, youth Sports Camps, adult Bible studies and provide pastoral care for thousands of First Nations in communities all across northern Canada this summer. With your help, we can bring reconciliation and the gift of salvation through the Gospel of Jesus Christ.
Reconciliation is possible through Jesus.
———————
Ron Ludke is Executive Director of Lutheran Association of Missionaries and Pilots (LAMP), a Listed Service Organization of Lutheran Church-Canada.