What will people sing at your funeral?
Does it really matter?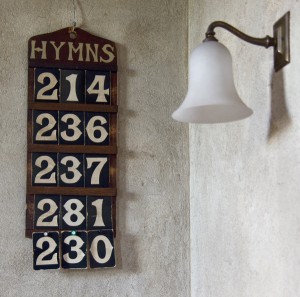 by Barry Wood 
Arranging a funeral is never easy for either the family or the officiating pastor. It becomes even more difficult when a family has lost its connection with the church as I discovered recently.
In this situation, neither the deceased nor her family were active in the life of the church. They hadn't attended Divine Service in a long time. Since the deceased was still a member of the congregation and received visits from a hospital chaplain who shared with her God's Word, I agreed to officiate at the funeral.
A family member called me and let me know they had already picked out some music for the service but would need to look at Scripture readings. I explained that I would have to review the music and, if it was appropriate, approve it for use in the service. I sensed some confusion on the other end of the conversation.
Since the family was not involved actively with God's Word and Sacrament, I expected some sentimental music or some of the "top ten" funeral hymns. What I encountered was worse than I imagined. For the service, the family chose music from several CDs to which the deceased had listened and enjoyed and which held special meaning. The music included a song that, while including God in the title, never mentioned or even alluded to God, Christ, sin, forgiveness, the cross, or any word of promise through faith in Christ in the lyrics. It did however mention angels.
Another song was a recording of a secular country music selection sung by the deceased's late husband. Yet another song simply referred to the enjoyment of time spent together by the family. I began explaining how this type of music was not appropriate for a Christian funeral. At this, the family became irritated and obviously uncomfortable.
However, what's wrong with this kind of music if a funeral is called a "celebration of life" and reflects what was important to the deceased as we so often see at a funeral?
A Christian funeral service should be Christ-centred and cross-focused
This leads to the fundamental question: What is the purpose of a Christian funeral?
Pastor Ron Simpson writes in his booklet Christian Burial: "The purpose of a Christian funeral is not to hear sentimental, syrupy funeral music, but rather its purpose is worship…focusing our attention on the greatness and goodness of God."
This is the key to understanding the purpose of a Christian funeral—focusing attention on what God has done for us in Christ. Therefore, the Christian funeral service should be Christ-centred and cross-focused. All elements of the funeral liturgy and hymnody should focus on Christ as Saviour of all people.
So can a funeral be a celebration of life? Absolutely yes, as long as it celebrates the life God gave to the deceased and the new life the deceased received through faith by the death and resurrection of Jesus.
Is the Christian funeral service to give comfort, hope and peace? Absolutely yes, as long as the comfort given is by proclaiming the forgiveness of sins Christ has won for all. Mourners can never receive true hope by words of praise of the deceased, especially if such words hide, mask and otherwise deny our fallen nature and give the impression God loves the deceased because he or she was such a nice person. And those facing loss can never receive true peace if the funeral service just makes them feel good for the immediate present because then the focus is limited to the here and now as if that's all there is. True and lasting peace can only be received by hearing the proclamation of Jesus' death and the assuring message that "because He lives we shall live also."
So as in all services, the goal of a Christian funeral service is to proclaim, giving thanks to God for His great mercy and grace shown to the deceased and to all of us in giving us the free gift of forgiveness and life with Him because of Christ.
Sentimental music gives no true comfort or hope
Some time ago while speaking with a member of one of my congregations she admitted she didn't want a funeral service. She wanted things simple – just a graveside interment and that was all. I gently asked her to consider what the purpose of a funeral might be for a Christian – her in particular. The service would be her last opportunity to proclaim her faith to her family and friends. It would provide an opportunity to tell how she knew she was a sinner, in a broken relationship with God and in need of forgiveness. They would hear of Jesus' love for her and how He also loves each one of those attending and how He died on the cross in payment for her sins and theirs, and how He rose again to assure us of everlasting life with Him. Her funeral service could be an opportunity for someone who was doubting or maybe never heard of Christ's forgiving love to be moved by the Holy Spirit to faith or deeper faith. A few weeks later, this member told me she had reconsidered her earlier position and now sees the importance of sharing the Good News of Jesus' death and resurrection—especially at a funeral.
The Holy Spirit can't accomplish any of these things if God's Word is hidden or worse, never used at a Christian's funeral. Sentimental music gives no true comfort or hope. These only come with the proclamation of Christ crucified.
As Pastor Simpson also says, "It is a wonderful time to sing the great and grand hymns of Christian hope. Families should not choose hymns which make them emotional but should choose hymns which have a devotional uplift. No Christian desires to be so overcome with grief that he/she couldn't join in thanks to Christ for overcoming death itself!"
After my experience with the family mentioned earlier, I asked my congregations to search the hymnal and choose hymns they would like for their funeral. If a piece of music is not in the hymnal then I asked one thing: make sure the music is Christ-centred and cross-focused, then tell their family what hymns they have chosen.
And what about the funeral arrangements that started this discussion? To make sure there was enough room for everyone, we held the funeral in the community centre. The prelude and postlude included the music requested by the family and I used my sermon to talk about the Christmas carol we sang out of season. The sermon text was Isaiah 40:1-8, so we sang the hymn "Comfort, Comfort these my people" (LSB 347) in the sermon as a way to bring awareness of the rich hymnody that gives much deeper comfort than sentimental songs.
Was this ideal? No, but ministry seldom is. However, those attending the funeral heard both the Law and the Gospel. They left knowing how much they are loved in Christ Jesus. And the discussions I had with the family gave me an opportunity to provide the comfort of the Gospel and the hope we have as believers.
As Dr. A.L Barry, the late president of the LCMS, wrote in his What About ..Death and Dying: "Above all, Christian mourners will turn to the worship fellowship of the church and the rich comfort of God's holy Word and Sacrament for healing along the path of grief. For Jesus Christ abides within His church through His sacred means of grace. Through these channels He bestows the riches of His forgiveness, life and salvation now, and to all eternity. One day we too shall stand with that great multitude of heaven who hear these blessed words: 'Now the dwelling of God is with men, and he will live with them. They will be his people, and God himself will be with them and be their God. He will wipe every tear from their eyes. There will be no more death or mourning or crying or pain, for the old order of things has passed away' (Rev.21:3–4)."
Rev. Barry Wood is pastor of Saving Grace Lutheran Church, Canora, Sask., Peace, Kamsack, Sask., and St. Paul Togo, Sask.